Roma, Palaeur
29 Febbraio 2009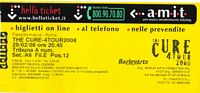 ---

Tutto esaurito al Palauer (modernamente, "Palalottomatica"), per il ritorno della band di Crawley.
Pubblico un po' diverso dal solito, forse perché cresciuto, ma affezionato come sempre.
Il concerto è come da scaletta, per i miei gusti troppo pop visto che vengono proposti praticamente tutti i singoli più conosciuti, anche se vi sono piacevolissime incursioni nel 1979 (Grinding Halt) e nel 1980 (Jumping Someone Else's Train).
Proposti alcuni nuovi pezzi e dimenticati nell'esecuzione gli album The Top e la parte meno pop di Kiss me Kiss me Kiss me.
Tre ore e cinque minuti di concerto, insolitamente iniziato addirittura alle 20.45, forse proprio per la sua lunga durata.
---

Setlist
Plainsong, Prayers For Rain, A Strange Day, alt.end, The End of the World, The Walk, Lovesong, To Wish Impossible Things, Pictures of You, Lullaby, From the Edge of the Deep Green Sea, Please Project, Push, Friday I'm In Love, Inbetween Days, Just Like Heaven, Primary, A Boy I Never Knew, Us or Them, Never Enough, Wrong Number, One Hundred Years, Disintegration

1st encore: At Night, M, Play For Today, A Forest
2nd encore: Lovecats, Hot Hot Hot, Let's Go To Bed, Freak Show, Close To Me, Why Can't I Be You
3rd encore: Boys Don't Cry, Jumping Someone Else's Train, Grinding Halt, 10:15 Saturday Night, Killing An Arab.

---
Torna alla pagina delle fotografie
Go back to the pictures page